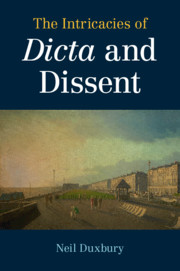 Vol. 33 No. 06 (August 2023) pp. 83-88
THE INTRICACIES OF DICTA AND DISSENT, by Neil Duxbury. Cambridge: Cambridge University Press, 2021. pp. 260. Cloth $115.00. ISBN 9781108841498. Paper: $39.99. ISBN 9781108794886.
Reviewed by Chris Monaghan., School of Law, University of Worcester, UK. Email: c.monaghan@worc.ac.uk.
Neil Duxbury in
The Intricacies of Dicta and Dissent
offers a thought-provoking account of the subject matter through the form of two extensive essays. In his first essay on
Dicta
, Duxbury observes that "[l]awyers and judges do not always agree – indeed are not always sure – what is and what is not
obiter
in a judgment" (p. 5). He is clear that within the common law, the distinction between
ratio decidendi
(the binding reasons for the decision) and
obiter dicta
(which is not binding) is that it "serves as a brake against judges formulating common-law rules
ultra vires
" (p. 8). In the second part of his essay on
Dicta
, Duxbury considers the importance of
stare decisis
in the emergence of
obiter dicta
, but is clear that these concepts did not emerge in "tandem" (p. 15). He views the emergence of
obiter dicta
as "[emerging] not with the acceptance that decisions by courts should bind as precedents. It emerges, rather, once making decisions becomes a recognizable function of the judiciary" (p. 18). In part three, "'
Obiter
' As Legal Entity", Duxbury points to sixteenth-century lawyers being instructed that when relying on an earlier case as a precedent, that they had to distinguish between "points of law" and "bye-matters" (p. 19). It was becoming clear in the sixteenth and seventeenth centuries that
obiter dicta
was not considered to be part of the law, although it could have some use in the absence of
ratio
(pp. 19-21). Nonetheless, Duxbury is clear that some judges still believed
obiter
had some value, and whilst from the eighteenth century onwards, "[a] simple message is repeated from one legal generation to the next:
obiter
opinions are not binding on a court. But this is hardly the whole picture" (p. 24). Indeed
obiter
is both "slippery" and "misleading as a concept" and by the end of the twentieth century, English judges "are now and again to be found according to particular
dicta
a more elevated status" than earlier judges (pp. 25-26).
Duxbury's consideration of "
Dicta
depicted" is interesting and he makes sound observations, such as how a judge might, depending on the context, refer to
obiter
as a secondary source, and then subsequently disregard it as being unimportant (pp. 27-28). So is
obiter
just a by the way comment? Duxbury notes that " [a]lthough the standard description of
obiter dicta
is that they are comments made in passing, English judges and lawyers, while accepting this description, depict them in other ways besides" (p. 28). Duxbury's description of how, depending on the circumstances,
dicta
is depicted by lawyers and judges is useful to the reader, as it does much to demonstrate the ambiguity around
dicta
. This discussion is continued in part five of the essay. It is interesting to read Duxbury's assessment that judges, whilst being the ones to produce and interpret dicta, have often been prompted to do so by the lawyers involved in the proceedings. Duxbury notes the modern reluctance of judges to be drawn into making
obiter dicta
(pp. 33-34). The contextual value of
dicta
is emphasized by Duxbury, as this can be relevant in "the scene setting" and explaining the decision, or to pass comment on the conduct of the parties (pp. 35-36). Duxbury is skeptical that
dicta
can be praised as showing how the law might develop in the future, as
dicta
[covering particular circumstances or conduct] "even where they do exist, will not necessarily hold sway in future courts (p. 42). Duxbury's analysis of the benefits and disbenefits of
dicta
is balanced. The next part of the essay on "Engines of Confusion" continues the discussion and looks at whilst
dicta
might be relied upon by a later court, it can never be as an authority. Duxbury notes the judicial frustration in the twentieth century of counsel relying on
obiter
in preference to the available ratio (p. 51). More worryingly for sitting judges, was the concern that they might regret earlier
dicta
and feel constrained by their previous comments.
Duxbury observes that regarding
obiter
, "[j]udicial self-censorship is a decidedly limited strategy", given that the common law judges would have difficulty in refraining from engaging in
obiter
(p. 60). He also observed that if one was to engage in treating anything unnecessary to the outcome as
obiter
, then