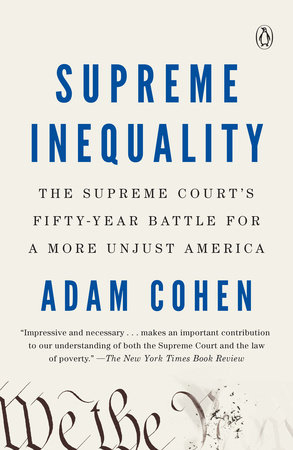 Vol. 32 No. 7 (July 2022) pp. 87-90.
SUPREME INEQUALITY: THE SUPREME COURT'S FIFTY-YEAR BATTLE FOR A MORE UNJUST AMERICA, by Adam Cohen. New York: Penguin Random House Books, 2020. pp.448. Paperback $18.00. ISBN: 9780735221529.
Reviewed by Thaddeus Hwong. School of Public Policy and Administration, York University, Canada. Email: thwong@york.ca.
If you think the Supreme Court of the United States has always been there to protect the weak from the strong as in the poor from the rich, think again. That is in essence what Adam Cohen argues in his book.
The book is not the first to argue that the Court did not do what a court of justice was supposed to do. A few years ago, Erwin Chemerinsky made a compelling case in his 2014 book. He showed that the Court supported slavery, fortified racism and did a whole lot more damage to civil liberties. Building on that line of inquiry, Cohen shows that the Court cuddled the rich and hurt the poor. His book fits snuggly alongside Chemerinsky's in a library shelf of books unravelling the Court's misdeeds hidden in plain sight – Cohen's 2017 book on the Court's role in legitimizing eugenics, Adam Harris' 2021 book on the Court's role in depriving education opportunities from Black people and Chemerinsky's 2021 book on the Court's role in promulgating police violence.
As Cohen doesn't mince words about the Court, and as he writes with convictions, this review would make productive use of his own words in trekking the path he paves to reach an observation that America just might not be ready to fathom.
In Cohen's snapshot, the Court might look like it had been starring in a dystopian epic. "The Court had not merely stopped its efforts to lift the boots of oppression off the necks of the poor; it had also gotten in some kicks of its own." (p. 310). The Court was not a passive bystander but an active perpetrator. "The Supreme Court is more than a legal tribunal, ruling on disputes between parties – it is also an architect. The Court's interpretations of the Constitution and other laws become blueprints for the nation, helping to determine what form it will take and how it will continue to rise. For the past half century, the Court has been drawing up plans for a more economically unequal nation, and that is the America that is now being built." (p. 317). In its past the Court could have done the right thing, but it didn't. Time and time again. The history of the Supreme Court is where the romanticism about the pursuit of justice goes to die.