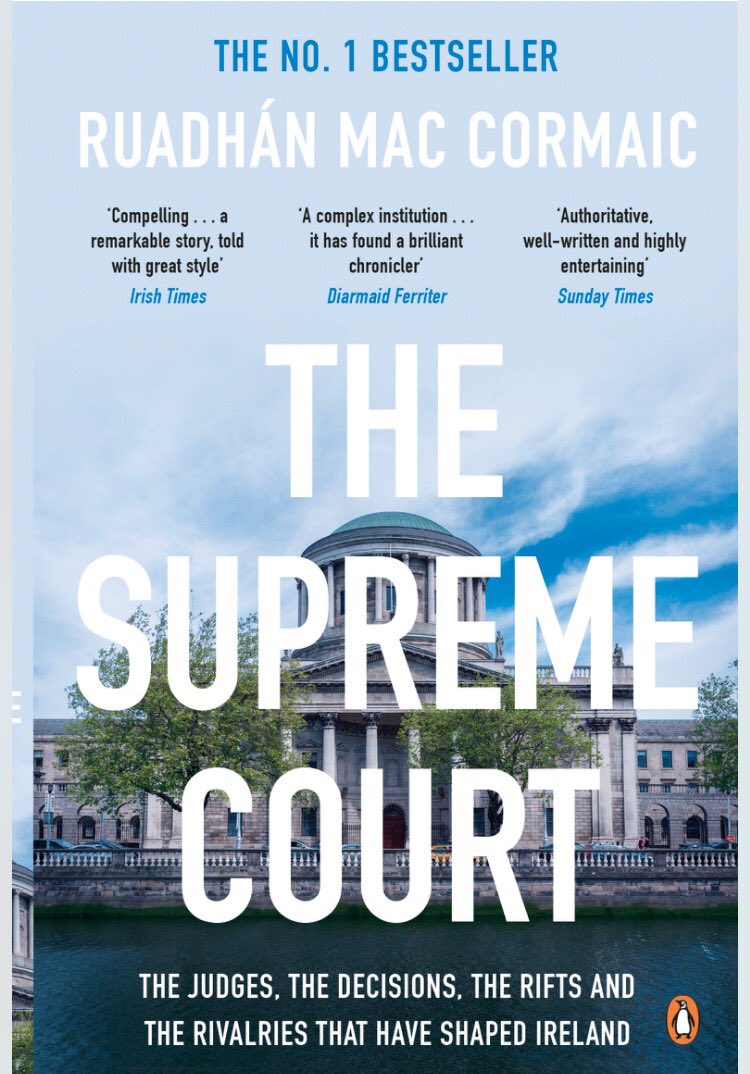 Vol. 27 No. 8 (October 2017) pp. 122-125
THE SUPREME COURT: THE JUDGES, THE DECISIONS, THE RIFTS AND THE RIVALRIES THAT HAVE SHAPED IRELAND, by Ruadhán Mac Cormaic. United Kingdom Penguin Ireland, 2016. 456pp. $45.00.ISBN: 978-1-844-88340-0.
Reviewed by Richard S. Price, Department of Political Science & Philosophy, Weber State University. Email: richardprice@weber.edu.
In 1999, I became fascinated with learning more about the U.S. Supreme Court after an introductory class discussion. I quickly discovered THE BRETHERN by Bob Woodward and Scott Armstrong (1979). I devoured the journalistic expose on the Court and was hooked thereafter. I suspect this is a common story for readers of these reviews and when I came across a blurb about Ruadhán Mac Cormaic's THE SUPREME COURT, I saw a similar opportunity to expand my horizons. Cormaic provides a journalistic exploration of the Supreme Court of Ireland from 1922-present. As with Woodward and Armstrong's classic, Cormaic provides an engrossing look at a foreign court that offers great details for academics. I will highlight three areas law and courts scholars may find particularly interesting, both as useful teaching material and as research fodder.
First, Cormaic illustrates nicely the classic academic argument over whether judges are driven by legal or policy considerations (Gillman 2001; Segal and Spaeth 2002). He presents Irish jurists as existing along a continuum from theorists to the pragmatists. Theorists are described as embracing Montesquieu's automatons theory: "judges … are only the mouth that pronounces the words of the law, inanimate beings, who can moderate neither its force nor its rigor" (p. 11), where pragmatists "are more result-oriented: they will the just outcome and then search for a legally permissible way to bring it about" (p. 11). The most intriguing exploration of decision-making, especially with an eye to classroom engagement, is the battle over unenumerated rights. The Irish Supreme Court first embraced the concept in RYAN V. ATTORNEY GENERAL (1965), where it accepted the idea of a right to bodily integrity while rejecting a challenge to water fluoridation (pp. 84-90). The application of this doctrine, similar to the American experience, received its most controversial exploration in matters of sex, contraception, and abortion. After giving birth to four children, May McGee's physician strongly warned her against any further pregnancies because of her serious health problems. Ireland prohibited the sale, advertising, or importation of contraceptives and none were made within the Republic. The story of her trial would make a profound companion study with GRISWOLD V. CONNECTICUT (1966). For example, the State suggested that the McGee's could simply live as brother and sister and when asked how her husband, Séamus, would feel to see May using contraceptives he responded "I'd prefer to see her use contraceptives than be placing flowers on her grave" (p. 163). The State strongly resisted the implication that the Constitution should change based on current opinion: "If this is an objectionable piece of legislation, the way to get rid of it was not by approach to the Courts but by having the Act repealed" (p. 164). When the Irish Supreme Court invalidated the law, it did so [*123] in part based on a marital privacy rationale similar to GRISWOLD but strengthened by the recognition of the family as a central component of Irish society in Article 41 of the Irish Constitution (170-72). Justice Brian Walsh particularly embraced this rationale, in part, Cormaic suggests, because he was aware of the connection between GRISWOLD and ROE V. WADE (1973) and wanted to cut off any future litigation towards abortion rights (p. 174). Pro-life activists, in Ireland, saw the same risks and successfully advocated for a constitutional amendment, adopted as the Eight Amendment in 1983 by 66.9%, recognizing the "right to life of the unborn" (Art.40.3.3o). This did not stop litigation over the issue. Most famously, the X case involved a fourteen-year-old rape victim who sought to travel to England to obtain an abortion, the common way around Ireland's restrictive law. The Attorney General instructed his office to seek an injunction, a decision Cormaic shows to have puzzled his government colleagues (p. 286). The Supreme Court ultimately lifted the injunction holding that the girl's suicidal feelings presented a risk to her life overcoming the constitutional restriction. While momentous, the X decision demonstrated the incoherence of abortion law in Ireland, which the country is still struggling to deal with (pp. 284-98). The 1983 challenge to Ireland's sodomy law provides another parallel to American unenumerated rights experience. The Irish Court upheld the law by drawing on "vague and largely unexplained natural law concepts and the Christian tradition to denounce homosexuality as a suggestible condition that was immoral and wrong" (p. 207). This brief description does not do justice to the complex narrative that Cormaic weaves but it should be sufficient to show the teaching opportunities inherent in his book as well as a nice comparative example of courts and social change research.
Second, Cormaic explores the institutional development of the Irish Court in ways that scholars of the rise of judicial power in the U.S. would find intriguing (Crowe 2012; Whittington 2007). While the Irish Constitution granted the courts judicial review, judges trained under a British tradition were loath to exercise the power. Cormaic uses language that scholars of political development have long been familiar with: "judicial innovation works by accretion, like a building that takes shape with the addition of each new block" (p. 58). In the 1940s, the Irish Court sought to protect itself from political intrusion when it invalidated a 1947 law that sought to require the dismissal of all actions related to a dispute over a political party's funds (pp. 62-67). Cormaic details the ways in which a new generation of justices built upon this foundation to strengthen the courts, in part by expanding its protection of fundamental rights as evident in the story about May McGee and the right to privacy. Decades later, Walsh recounted how, when he was appointed, the Taoiseach expressed a desire for a more American style Supreme Court (p. 78) and in some ways the activism of the Irish Court in the 1960s and '70s paralleled the Warren Court experience touching on a variety of issues from criminal procedure to the rights of prisoners held for extradition to the United Kingdom. In other ways, though, the institutional power of the Irish Court went further than its American counterpart in 1986-87 when it fundamentally altered Ireland's treaty power. In December 1986, Ireland was set to ratify the Single European Act when the High Court enjoined ratification days before the January 1st deadline. On appeal the Irish Supreme Court sustained the injunction, reasoning that a significant transfer of control of foreign [*124] policy must be submitted to the people in a referendum. "Since 1987 every European treaty has been put to a referendum, and two … have been defeated before being approved at the second attempt" (p. 262). This not only altered popular expectations about referenda, but the Court also forbade the Government from using public money to campaign for a referendum result (pp. 251-68). This is not to say that the Court never faced challenges. In 2011, 80% of voters supported removing the constitutional prohibition on reducing judicial salaries concluding a controversy of the Great Recession public funding crisis (p. 380). Cormaic's story illustrates a Court that evolved from a deferential British approach to judicial power to an independent actor of political importance.
Finally, Cormaic provides fascinating details of interest to signaling and support structure theories of judicial behavior (Baird 2007; Epp 1998), the idea that judges both send signals of interest about legal theories and rely on lawyers to develop cases expressing legal theories for them to act upon. Any early Irish justice interested in exploring the power of judicial review was hampered by the fact that "there were no queues of lawyers taking landmark legal challenges that would force the judges to grapple with their powers under the new system" (p. 47). One barrister, and eventual Irish Supreme Court justice, recalled witnessing a 1950s case where Justice Cearbhall Ó Dálaigh interrupted the argument saying, "Gentlemen, we have a Constitution. Yet no seems to know what it means" (p. 71). A new generation of lawyers began to rectify this lack of support for constitutional activism by developing the necessary cases with Justice Walsh stating that the "most important reason [for the increase in rights activism] was that [the Supreme Court] got the cases" for the first time (p. 80). These constitutional cases were heavily influenced by judicial signals encouraging a stronger reliance on U.S. constitutional law: Walsh wrote in an opinion that if barristers were to cite to comparative law, "it would be more appropriately have been the Supreme Court of the United States rather than the House of Lords" (p. 94). One barrister later recounted how he had to acquaint himself with American law because Ó Dálaigh would end a case by asking, "Has the American Federal Supreme Court anything to say about this problem?" (p. 95). Cormaic explains many of the ways in which legal signals from courts can stimulate the creation of an epistemic community that then offers support for further legal development over time (see Hollis-Brusky 2015).
Cormaic's history presents a journalistic take on the Supreme Court of Ireland that is a fun and informative read for any person interested in law and courts. I've attempted to highlight only a few issues that scholars may be able to draw upon to further theoretical and empirical studies of legal behavior.
REFERENCES:
Baird, Vanessa A. 2007. ANSWERING THE CALL OF THE COURT: HOW JUSTICES AND LITIGANTS SET THE SUPREME COURT AGENDA. Charlottesville, VA: University of Virginia Press.
Crowe, Justin. 2012. BUILDING THE JUDICIARY: LAW, COURTS, AND THE POLITICS OF INSTITUTIONAL DEVELOPMENT. Princeton: Princeton University Press.
Epp, Charles R. 1998. THE RIGHTS REVOLUTION: LAWYERS, ACTIVISTS, AND SUPREME COURTS IN [*125] COMPARATIVE PERSPECTIVE. Chicago: University of Chicago Press.
Gillman, Howard. 2001. "What's Law Got to Do with It? Judicial Behavioralists Test the "Legal Model" of Judicial Decision Making." LAW & SOCIAL INQUIRY 26: 465-504.
Hollis-Brusky, Amanda. 2015. IDEAS WITH CONSEQUENCES: THE FEDERALIST SOCIETY AND THE CONSERVATIVE COUNTERREVOLUTION. New York: Oxford University Press.
Segal, Jeffrey A., and Harold J. Spaeth. 2002. THE SUPREME COURT AND THE ATTITUDINAL MODEL REVISITED. New York: Cambridge University Press.
Whittington, Keith E. 2007. POLITICAL FOUNDATIONS OF JUDICIAL SUPREMACY: THE PRESIDENCY, THE SUPREME COURT, AND CONSTITUTIONAL LEADERSHIP IN U.S. HISTORY. Princeton: Princeton University Press.
Woodward, Bob, and Scott Armstrong. 1981. THE BRETHREN: INSIDE THE SUPREME COURT. New York: Avon Books.
CASES:
ATTORNEY GENERAL V. X [1992] 1 IR 1.
GRISWOLD V. CONNECTICUT, 381 U.S. 479 (1965).
ROE V. WADE, 710 U.S. 113 (1973).
RYAN V. ATTORNEY GENERAL [1965] IR 294.
---
Copyright 2017 by author, Richard S. Price